Ukrainian President Volodymyr Zelenskiy told a European Union summit on June 29 that the recent failed mutiny in Russia demonstrated the country's "weakness," saying it will aid Kyiv in its fight against Moscow's brutal invasion.
"We are seeing their weakness, which we so badly need," he said by video link to the Brussels gathering.
"The weaker Russia is, and the more its bosses fear mutinies and uprisings, the more they will fear to irritate us. Russia's weakness will make it safe for others," he added.
The comments come as Kyiv has said it is making gains in "fierce" fighting in the country's east but also as deadly Russian shelling continues to take a toll on the civilian population in Ukraine and while Zelenskiy maintains his calls for additional aid and eventual NATO membership for his country.
German Chancellor Olaf Scholz told reporters ahead of the summit that "it's important that we consult and say we're ready to hold on for the long term, with financial and humanitarian support that's necessary for Ukraine but also when it comes to weapons."
The dominant topic of the two-day EU meeting is the war in Ukraine and discussions on how the June 24 insurrection by the Wagner mercenary group could affect Russia.
EU foreign policy chief Josep Borrell warned that the mutiny had weakened Russian President Vladimir Putin, but this didn't mean the West could relax.
"A weakened Putin is a greater danger," Borrel said ahead of the summit, adding: "Now we have to look at Russia as a risk because of internal instability."
In Kyiv, Ukrainian officials claim they have been making slow but continued progress in fighting around the embattled city of Bakhmut in the country's eastern Donetsk region.
"Our troops are gnawing away at every meter of the enemy's land in this fierce battle," Deputy Defense Minister Ganna Malyar said in a statement on June 29. "They are making progress."
Russian forces are "trying to hold their positions, conducting counterattacks" but are "gradually retreating after suffering losses," she said.
Separately, the commander of Ukraine's ground forces, Oleksandr Syrskiy, claimed Ukrainian troops were steadily making slow gains.
"We have advances near Bakhmut and are continuing. We are moving," Syrskiy said on his Telegram channel.
Bakhmut was captured by Russian forces in May, after bloody and protracted battles that reduced the city to rubble.
Also, a Ukrainian commander said on June 29 that his forces took control of the village of Klishchiyivka, some 3.5 kilometers south of Bakhmut.
"This is a strategic point from where offensive actions to the south of Bakhmut will begin," Denys Yaroslavskiy, the commander of the reconnaissance company of the 57th brigade of the Armed Forces of Ukraine, told RFE/RL.
Since launching a counteroffensive earlier in June, Ukraine says it has reasserted control over clusters of villages in the southeast.
The claims could not be independently verified.
The Ukrainian General Staff said early on June 29 that 40 combat clashes had taken place in the previous 24 hours, mainly in the areas of Lyman, Bakhmut, and Maryinka in the western part of Donetsk.
A 71-year-old woman was killed, and two others were wounded in Russian strikes in the southern town of Bilozerka, in the southern region of Kherson on June 29, regional authorities said.
At least, 12 residential houses were damaged in the attack, they added.
In the city of Kramatorsk, Ukrainian rescuers pulled another body from the rubble of a restaurant and shopping center targeted by a Russian missile strike, taking the death toll in the June 27 attack to 12, officials said.
"In total, 12 people, including three children were killed, 60 people were wounded, and 11 other have been rescued," Ukraine's emergency services said in a statement on June 29. The emergency and rescue operations have been completed, it added.
Local authorities in the southern city of Kherson said on June 29 that at least two people were killed and two others injured in the shelling of a civilian shelter where humanitarian aid was being handed out.
Russia's Defense Ministry claimed on June 29 that two Ukrainian generals and dozens of army officers were killed in the Kramatorsk attack. But the ministry didn't provide any proof to support its claim.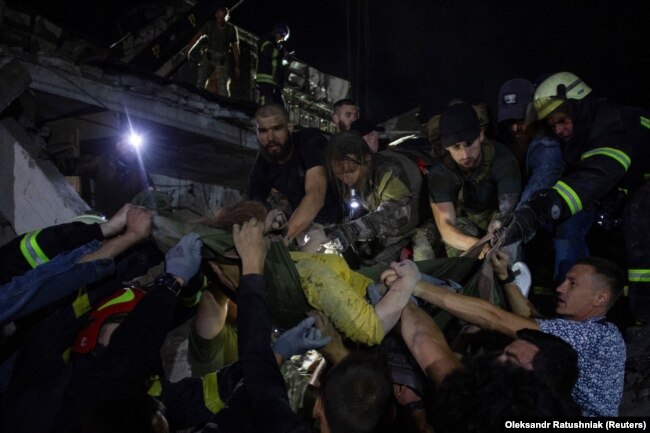 The area was popular with soldiers, journalists, and locals in Kramatorsk, one of the largest cities still under Ukrainian control in the country's east.
Ukrainian authorities on June 28 arrested an alleged Russian spy involved in the Kramatorsk attack.
Ukraine's Security Service (SBU), working with special police forces, detained the person, Zelenskiy said on Telegram on June 28.
"Whoever helps Russian terrorists to destroy lives deserves the maximum penalty," Zelensky said in his nightly address.
He did not identify the person who was detained in the attack, but the SBU said earlier it was a local man who worked for a gas transportation company and is suspected of filming the restaurant for the Russians and informing them about its popularity.
Kramatorsk was targeted by two Russian missiles, one hitting the restaurant and shopping center in the city center and a second hitting a village on the outskirts of the city in Ukraine's eastern Donetsk region.
In response to the outcry over the attack, Kremlin spokesman Dmitry Peskov on June 28 claimed Russia only carries out strikes "that are in one way or another linked to military structure."
Moscow has repeatedly denied shelling the civilian population in Ukraine despite evidence and testimony to the contrary.
Source : Rferl