Since coming to office, Foreign Minister Penny Wong has made "ASEAN centrality" the linchpin of Australian foreign policy.
In an age of great power rivalry, Wong has said consistently that Canberra will meet South-East Asia where it is, that it lands in its capitals to listen, not lecture, seeking with its regional partners to construct a new "strategic equilibrium".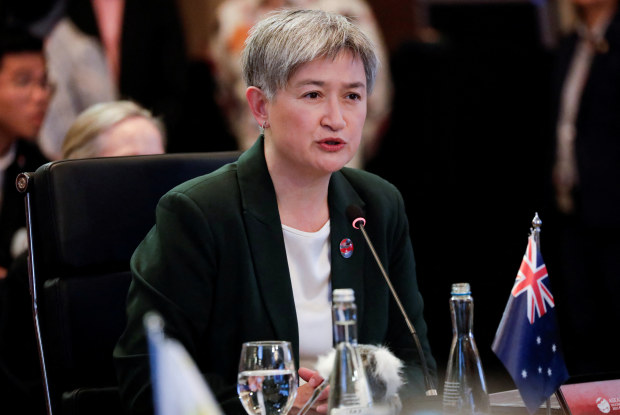 Last week in Jakarta, where Wong attended a meeting of ASEAN foreign ministers, she took this sentiment a step further, saying that "ASEAN's security is Australia's security". It "holds the centre of a region that is stable … prosperous … secure".
And she made a statement about Australia's place in the world not to be dismissed as superficial gloss, for it tilted against what former Labor leader Arthur Calwell once memorably lamented to be Australians' capacity to see the very map of Asia as a "conspiracy of geography".
As Wong said, "if you look up from Australia, up north, you see the ASEAN countries in the centre of the region".
That's a clear marker of difference from some Morrison government ministers' tendency to view the region through the fog-rimmed goggles of the Anglosphere.
ASEAN unity at a low ebb
But as Australia attempts to bolster ASEAN unity, and as Wong continues to build a strategic and rhetorical bridge into South-East Asia, ASEAN is doing its best to undermine that very unity by its deeds.
As a consequence, Australia needs to move from rhetoric to the engine room of bilateral substance, while also continuing to encourage key ASEAN partners such as Indonesia, Singapore, the Philippines and Vietnam to lend their weight to the regional balance.
ASEAN unity is currently at a low ebb. A recent Thai initiative to engage with Myanmar's military junta outside the framework of ASEAN met with a mixed reception at the recent discussions in Jakarta. Some members were inclined to view Thailand's outreach positively, others less so.
The joint statement from the meeting emphasised that diplomatic efforts should be "in co-ordination with the chair of ASEAN" – which this year is Indonesia.
It cannot mask, however, that on both Myanmar, where the military is engaged in acts of brutal violence against pro-democracy citizens, and the current crisis in Thailand, where the country is perched precariously between democracy and military domination, ASEAN's efforts have thus far been to little avail.
ASEAN democracies along with Singapore have tried to hold the line against Myanmar resuming its place at ministerial meetings and summits, but it is also true that the broader ASEAN membership has shown itself to be divided.
Little wonder that some senior Singaporean diplomats see the Quad's emergence as a sign of ASEAN's inability to hold the centre.
Too much 'self-congratulation'
One of South-East Asia's leading strategic thinkers, the former permanent secretary of Singapore's foreign minister, Bilahari Kausikan, has recently called for a return to the kind of hard-headed realism that characterised ASEAN's resolve in the late 1980s, where its action helped to prevent the permanent occupation of Cambodia by Vietnam.
Writing for Nikkei Asia, Kausikan argues that ASEAN "centrality needs to be continually re-earned in changing circumstances". He sees too much "self-congratulation" and a "posturing too often substituted for policy". And he worries that ASEAN risks becoming marginalised in an era where the Quad and AUKUS now occupy regional strategic breathing space.
The in-principle addition of Timor-Leste to ASEAN will likely pull further at ASEAN unity and coherence, but its inclusion will ease the burden on Australia and make Dili less susceptible to potential Chinese influence.
Along with Pacific engagement, Australia has no more important local game to play than with ASEAN. It, like ASEAN states, does not wish to see a closed and hegemonic region. But ASEAN states are increasingly divided on how to sustain strategic hedging while not closing off the economic benefits they still want from Beijing.
All this means that the need for greater Australian economic heft at the bilateral level. On that score the forthcoming report from Nicholas Moore, the government's envoy for South-East Asia, could signal a real step change in Australia's economic engagement with the region.
In remarks last month to the Australia ASEAN business summit, Moore said that the opportunities for business in South-East Asia will be "more than the prosperity that we saw coming from Japan, and Korea and Taiwan and then China in terms of our closest neighbours and the growth we will see from them". It will be important for Australian businesses to hear this call coming from Moore, not just the bureaucracy.
The question is whether Australia is on the cusp of a new era in its relations with the region. After the withdrawal of British military power from South-East Asia in the early 1970s and the recalibration of America's military presence in the wake of the Vietnam War, Australia's approach to the region underwent a revolution.
It sought to come to terms with a region which was free at last from Western domination and resolved to shape its own future. Australia presented itself not as a junior ally of the former Western masters but as a "good neighbour" that was also naturally and properly a member of the region.
Former Labor foreign minister Gareth Evans said that Australia was striving for "comprehensive engagement" with the region. That's a task now enjoined in a very different set of strategic circumstances, but with no less importance for Australia's future security and prosperity.
Source : Financial Review